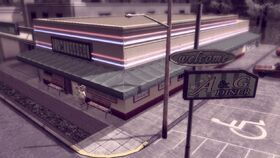 Hours of Operation

[

]
09:00 A.M. - 21:00 P.M. Closed during the rain.
About the A & G Diner

[

]
The A & G Diner is a restaurant owned and operated by Nick and Olivia Cormack. It is located in the east part of town on the corner of January Way and Hamilton Way.
Like the Milk Barn, the diner serves as a bit of a hub in town. Many of Greenvale's citizens show up there at various times, and some of them are regulars. Nick is widely praised in town for his cooking, and Olivia is friendly and informative. Every part of the diner is accessible except for the small kitchen.
The diner is central to a few points in the story, and a couple of Side Missions send Francis York Morgan there to fetch items. York can also stop by the diner during business hours and purchase food from the kitchen.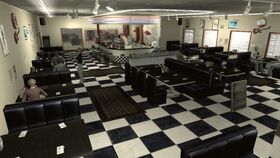 Employees

[

]
Occupants

[

]
Trivia

[

]
The "A & G" stands for Apples and Gravy.