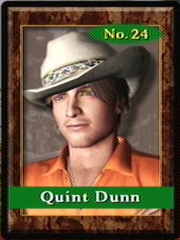 Description
Edit
Becky's boyfriend. His good looks make a good first impression as a trustworthy young man. A very caring man, he worries about Sally's mental condition. His hobby is to tinker with his bike.
Receive second place in the darts game at SWERY 65.
Quint's card mentions he worries about Sallie. However, Sallie is spelled "Sally's" instead of "Sallie's"