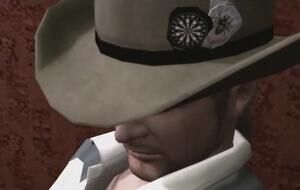 Richard Dunn is the owner of the dart bar, SWERY 65. He raised his son, Quint, by himself after his wife divorced him. A calm, soft spoken man, he is very private and does not open up to others easily. He appears well liked by the others in town and he offers Sallie Graham an immense amount of support after the loss of her daughter. 
It is implied that Richard is in love with Sallie. When asked about his relationship with Anna, Richard says that he's known the family for a long time, as he and Sallie grew up together. When York asks Richard "how long he's been in love with her", Richard gets defensive and tells York to mind his own business. 
Richard will give York a bigger weapon bag if he beats his high score at darts. By topping the leader board three times, Richard will also reward the Quint Dunn (Trading Card) and Richard Dunn (Trading Card).
Richard suggests to Zach that he become the new Sheriff of Greenvale during the epilogue. This is a complete turn-around from the hostile attitude he gave Zach/York during the actual case.

Community content is available under
CC-BY-SA
unless otherwise noted.